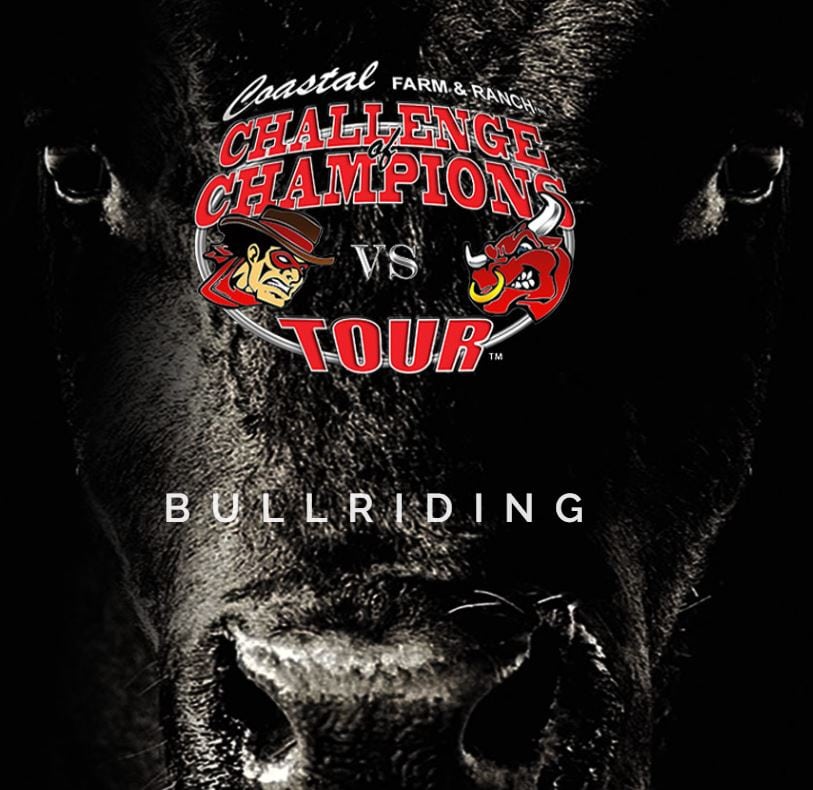 Challenge of Champions Tour
The Challenge of Champions Tour features Professional Bullriders from all around the Pacific Northwest, United States. Riders range from PBR Qualifiers, NFR Qualifiers, Top Circuit Finals Qualifiers, Collegiate and High School Finalist.
PUSH Enterprises, Inc., Producing Western Events, standing by traditional cowboy values, for the benefit of fans, cowboys, contractors, and the local businesses and communities we visit! We began bullriding production in 2009! PUSH Enterprises, Inc. has grown from a hometown bullriding venue up to an over 18 event tour of the Pacific Northwest! This phenomenal growth over the years has proven that bullriding is craved by fans.
PUSH Enterprises, Inc. foresees continued growth and we are excited to bring you along for the ride! The Challenge of Champions Tour features on average 30 Professional Bullriders from all around the Pacific Northwest. We bring in multiple contractors that bring in their best bulls, allowing the bullriders to get on the best bulls on the Tour at each event. In our introduction we showcase the top 3 – 4 bullriders at each event ranging from PBR Qualifiers, NFR Qualifiers, Top Circuit Finals Qualifiers, Collegiate and High School Finalist.
A very important aspect of our show is that during each event we showcase a true American Hero, a service man or woman. We follow this by an invocation where our founder, Jason Mattox's girls bring our stars and stripes into the arena.
On average we buck 3 – 4 sections of solid performing bulls, typically providing rides that cowboys can earn 90 points on. On average there are 3 – 10 successful rides at each Tour Stop ranging from 79 – 90 pts. We present each winner of the night with a custom belt buckle, an award Jacket, along with many other sponsor prizes. This allows each ride they make help them towards reaching the ultimate goal of Tour Champion!
The tour also showcases our youth, the pride and joy of the Tour. Through our partnership with the OJBRA (Oregon JR Bullriders Association) our events allow these 7 – 15 year old kids to qualify to the Finals held in Texas each November.
Our Founder Jason Mattox is the producer of the Challenge of Champions Tour. Jason is originally from Arizona and had previously ridden bulls for 15 years in the PRCA and the PBR. After a relatively long professional bullriding career, he came to the realization that he has reached the end of that career. He is now following his next passion which is to produce successful bullriding events that are run on the premise of good old fashioned ethics, values, in a professional, safe, and family oriented environment.
In addition to producing this series, he is married, and has three beautiful girls. We strive for professionally presented, entertaining events for families; to provide high money opportunities for cowboys; to allow great contractors places to buck their animals; provide quality marketing for local businesses while increasing customer traffic, all while providing a safe environment for both participants, staff, and attendees!
Mission:
To Preserve the Western Heritage & Present Professional Events.
Vision:
We envision offering fun, yet educational opportunities to families, community members, youth, and more that focuses on traditional bullriding and the cowboy way. We strive to keep the tradition of bullriding alive through offering an avenue for junior bullriders to perform in a safe environment, surrounded by tenured professionals. We aim to bring families together for shared experiences by ensuring our events are family friendly, while entertaining regardless of age. Last, we continuously work to provide a great return on investment to our sponsors, and the communities that host our events.